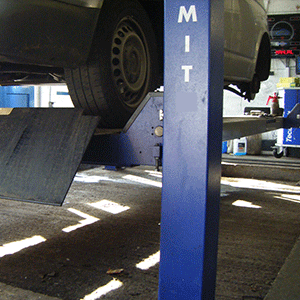 You must keep any vehicles driven on the road in a roadworthy condition. The MOT test checks that your vehicle meets road safety and environmental standards.
It isn't the same as having your vehicle serviced and doesn't check its general mechanical condition.
The leaflets 'Your car and the MOT' and 'Your motorbike and the MOT' include a list of the parts of your vehicle that will be tested.
We send out friendly reminders when your car needs a new MOT
Book an MOT online now with our request system. Just select the book now button, booking an MOT couldn't be easier with this interactive system.
No slot available for when you want an MOT?
If there isn't a slot available for when you want an MOT simply give us a call on 01453 765100 and we'll see if we can fit you in
If you have a car that's more than 3 years old it will need an MOT test each year to ensure that it meets at least the minimum road safety and environmental standards. We will test a variety of features in your car to make sure everything is working to the correct level.
We will always seek your approval before we do any work on your vehicle, and in most cases this work can be completed on the same day.
What do we test?
Vehicle identification number
Registration plate
Lights and windscreens
Wipers and washer bottle
Horn
Seats and seatbelts
Fuel system
Emissions
Doors and bodywork
Mirrors and brakes
Wheels and tyres
---
Shop
We also sell products in our garage.
> Car Batteries
> Car key fob batteries
> Bulbs
> Wipers – Standard and AERO blades
> Useful nuts and bolts
> Washers
> Screen wash
> Lubricants
> Oil
> And more…
We can supply parts for you to fit to your own car or van.
Never be caught out again, take a look next time you're in, or ask a member of staff.