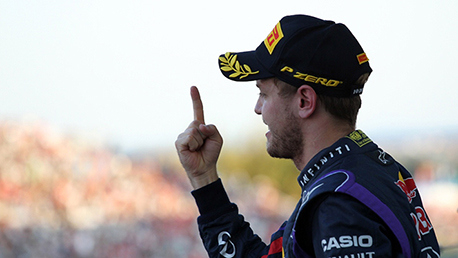 So. The Indian Grand Prix this weekend, and the near certainty that Sebastian Vettel will win his fourth world championship in a row. All he needs do is bring the RB9 home fifth or higher, and Fernando Alonso's purely mathematical chance to take the title disappears. It's going to happen now, so get over it. It's just a question of when Red Bull get to break out the winner's T-shirts and the BBC try once again to make Seb cry.
So prepare for the shirts and the sentimental VTs this weekend. Take a look at Vettel's form this season: 3-1-4-1-4-2-1-DNF-1-3-1-1-1-1-1. From Canada onwards, and with the sole exception of Hungary, if he's finished, he's won. And don't forget those records Vettel can't help himself from tilting at. He can't beat Michael Schumacher's 13 wins in season this year, but he can still match it if he wins the next four races: in India this weekend, in Abu Dhabi, in the USA and in Brazil.
First practice this morning suggested he intends to try to do exactly that. In a session Red Bull doesn't always set out to win, Vettel was two tenths ahead of Mark Webber, who was just ahead of Nico Rosberg, Romain Grosjean and Lewis Hamilton. The whole weekend is live this weekend on the BBC, with Free Practice Two on Friday between 9.30 and 11.00am on the Beeb. Qualifying is 0930 tomorrow and the race at the same time on Sunday (and don't forget to put your clocks back Saturday night).
There's also the feeling that the remaining four may struggle. The fact that the RB9 has pulled so far ahead of the pack in the second half of the season (Seb's been unbeatable since the teams came back from their summer holidays), suggests that no matter what the other teams are saying, they all made the decision while sitting on the beach not to significantly develop their cars. 2014 would be their best bet to beat Red Bull, or in McLaren's case, 2015. Since the summer, Red Bull's opposition has been working hardest away from the tracks.
There have been a few developments since Japan, although no news on the likely destination of Nico Hulkenberg. Eddie Jordan says it is given that he will sign for Lotus, providing that Lotus is able to tie down its refinancing and a big injection of cash from the Sultan of Brunei's brother (among others). We have said it before, but Grosjean and Hulkenberg will be the most exciting paring on the grid. Something to definitely look forward to. Hulk' going to Lotus means — says Eddie — Paul di Resta and Adrian Sutil will stay at Force India, suggesting the management there are able to see something on their traces we've yet to see on the TV.
The big news of the week is Toro Rosso signing a 19-year-old Russian. Not Sauber's 19-year-old Russian (he's only 18), but Danill Kvyat (you swallow the K and pronounce the rest a bit like 'Fiat' apparently) to race alongside Jean-Eric Vergne in 2014. Most of the F1 paddock was expecting Antonio Felix da Costa to get the drive, and those that weren't backed Carlos Sainz Jnr. After initial outrage and cries of foul play, the consensus now seems to be that Kvyat's results in GP3 and elsewhere suggests he's got talent.
Then again Red Bull seems convinced that Daniel Ricciardo has too. He had (another) quiet morning on first practice, finishing 13th, a couple of places behind Vergne. We just haven't seen enough of the right stuff from Ricciardo. Still, as Red Bull have shown these last four years, you really only do need one fast car to win the title.
On October - 26 - 2013
Blog