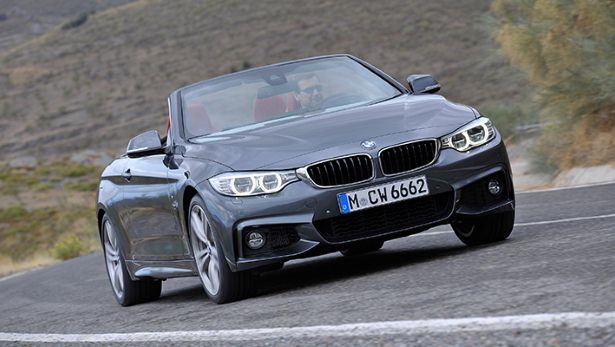 Barely four months since BMW officially put the axe into its ubiquitous two-door with the new 4 Series Coupe comes this, the new BMW 4-Series Convertible.
And just like its coupe counterpart, this one is lower, longer and wider than its predecessor, with BMW claiming it to be a "more overtly sporting car" than before. As you can see, it follows the fine form set by the 4-Series Coupe, all massive kidney grille, hexagonal headlights, huge air intake and Hofmeister kink.
Of course, this one comes with a three-piece folding metal roof that can be raised or lowered in 20 seconds at speeds of up to 8mph, while we're told – wait, what? 8mph? Yes, improvements to the roof – including a new sound-absorbing headliner – mean wind noise levels have been reduced by 2dB, but seriously, 8mph?
Anyway, underneath you get the same chassis as the 4-Series Coupe, but in this iteration, the springs and dampers have been retuned, with adjustments made to the camber angle, track and roll centre; there are extra-wide supports and mounts on the wheel carriers for track and camber, slightly repositioned pivot points, stiffer control arms and axle subframes together with 'thrust arms' connected to the suspension to give a sportier setup.
Three engines are available on launch: the 420d Convertible, 428i Convertible and range-topping 435i Convertible. The entry-level four-pot diesel has 184bhp and 280lb ft of torque to give a 0-62mph time of 8.2 seconds (and CO2 emissions of 133g/km), the 428i produces 245bhp and 258lb ft, does 0-62mph in 6.4 and emits 159g/km, while the range-topper – and the one you will want – gets a turbocharged 3.0-litre straight-six producing 306bhp and 295lb ft, to give a 0-62mph time of just 5.6 seconds. E46 M3 owners, beware…
All are offered with a six-speed manual gearbox as standard, with the option of an eight-speed auto. Prices start from £36,675 for the 420d, rising to £44,970 for the 435i.
TG drives the new BMW 4-Series Coupe
Written by Vijay Pattni 14 October 2013 TopGear
On August - 1 - 2013
Blog